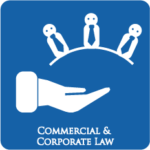 We assist Italian and foreign businesses, providing legal advice and services on judicial and transactional matters. From the start, we work with our clients to prepare articles of incorporation, bylaws and shareholders agreements, considering the specific needs of the stakeholders.
Our transactional work also involves addressing the daily needs of our clients, whom we support in the negotiation and drafting of B2B and B2C agreements, as well as in the protection and management of intellectual property rights and on compliance with regulatory provisions of domestic and EU legislation.
Our litigation focusses primarily on the enforcement of contractual rights and the recovery of sums, corporate and directors' liability, unfair competition, and protection of intellectual property rights.
We advise clientele in insolvency and composition with creditor proceedings, in debt restructuring matters, and in the management of excessive debt.
We advise domestic and foreign entrepreneurs and investors that wish to launch or expand businesses, including in the form of innovative start-ups in Italy, also assisting them with their business and staff immigration needs.