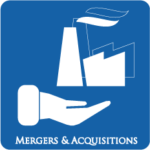 We provide advice and support in mergers, spin-offs, acquisitions and sales of corporate holdings and of businesses.
We advise on the structuring of the transactions, the preparation of offers, the conduct of negotiations, the organization and conduct of legal and regulatory due diligence, the drafting and negotiation of preliminary sales agreements and final sales agreements as well as all relevant corporate and contractual documents.
On M&A transactions we work closely with tax, accounting and financial experts, with whom we have long-standing relationships.