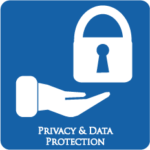 We assist our clients with compliance needs linked to the commencement of new activities and/or the introduction of new services, technologies or processes that imply the processing of personal data. Our assistance normally begins with a risk assessment regarding the processing of personal data, we then advise and support our client as need be regarding:
1) the design and implementation:
• of compliance steps and security measures, including the drafting and/or updating of documentation required by law (e.g. contracts between the owner / managers / co-owners, information, data processing registers, risk assessment documents)
• of internal procedures aimed at better protecting the rights of the interested parties (e.g. processing of data, including particular data, in employment relationships, the management of video surveillance systems, training of persons in charge of processing, response to requests from data subjects),
2) the management of all fulfillments to be carried out in the event of security incidents (data breach).
We also provide periodic audits to ensure that the privacy compliance system keeps pace with the evolution of the client's business and processes.